Bought tickets to Coachella in a moment of (possibly drunken) weakness with your friends? Never been to a music festival and have no idea what to expect? Don't worry, we – your EDM guardian angels – are here to assuage all your fears and ensure that you go in prepared to have the time of your life.
1. Choose Comfy Kicks
Yes, I know you've been planning your rave look(s) for months but hear me out here: you can have a fire outfit without wearing shoes that double as mini daggers for your toes. Music festivals are usually pretty generously spread out and always jam-packed so you want to wear comfortable footwear to take on the crowds and to run from the stage to the porta-potties and back without twisting your ankle. Sneakers or sturdy sandals are the best way to go, so ladies, please leave those killer heels at home. And if you're seriously worried about comfortable footwear blah-ing down your look, then just go out a pair of plain white Converse and jazz them up with your trusty old Sharpies. Turns out comfort and fashion can co-exist peacefully after all.
2. Hydrate, Hydrate, Hydrate
Dehydration is a bummer anywhere, but it's a real vibe-killer at music festivals. Without any good ole H20 in your system you're going to start feeling dizzy and really what's the point of driving over to Vegas to catch Electric Daisy Carnival if you have to spend most of it passed out in the medical tent? Since bottled water costs an arm and a leg at most music festivals, take advantage of the free water refill stations and come armed with your own bottle! Carry a sleek hydropack or a flask that you can easily top up because you're going to want to keep your fluids up when Alesso hits the stage so you can tear up the dance floor with the moves you've been practicing in your bedroom all summer.
3. Get There Early!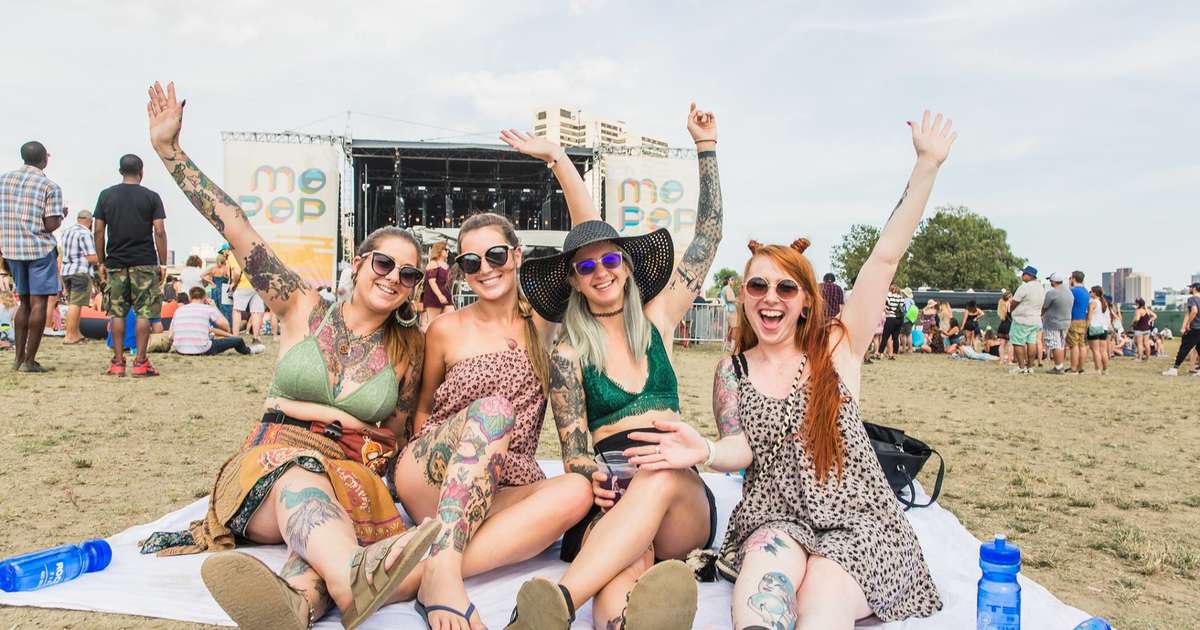 However tempting it may appear to take that random detour on your way to Lollapalooza, I suggest you hold off on the tenth pee and snack break if you want to get there on time. Arrive with some time to spare so that you can get a good feel of the venue and familiarize yourself with the place before it fills up with enthusiastic ravers. Remember, the early bird catches the worm best spot to do the worm! But if you want a chance at making any new EDM buddies – or leaving with your dignity intact – I'd advise you to save that move for dares.
4. Come Armed With A Portable Charger
Having your phone dying on you when you're fumbling through the dark on your way back to the tents is something I wouldn't wish on my worst enemy. Think ahead and toss in a (preferably fully-charged) portable charger into your fanny pack so that along with your own, you can make sure you keep your phone's energy up too. Since your phone's your main medium of communication with your group – and the world beyond – try to conserve your battery as much as possible, even if you have a charger at hand. Focus on making memories, not documenting them on Snapchat and then maybe, just maybe, you have a shot at making it out without a dead phone.
5. Layer Up
The key thing to keep in mind when planning your outfit weeks and months in advance, is that layering is your friend. Yes, even if you're headed to Coachella, in the heart of sunny California, you'd want to make sure that your clothing equips you to deal with any fluctuations in temperature that may be thrown your way. Remember that a lot of music festivals can go from being unbearably hot to teeth-chatteringly chilly in a matter of moments come sundown, so you want to stack up on those layers if you want to be able to travel light. I'd suggest working in a cute sweatshirt into your look so that you can take it off or leave it on as and when you need whilst keeping the aesthetic intact.
6. Carry Cash, Not Cards
While it may seem counterintuitive to carry cash to a music festival, I assure you that it's a smart move because a lot of the food stalls and such may not be keen on taking credit card payments… and you really don't want to go the night hungry now, do you? Rather than running the risk of losing your credit card out there on the chaotic mess that is the dance floor, stash some money in your beloved fanny pack. Take it a step further by distributing your cash amongst your belongings – pockets, beneath the sole of your shoes, in your phone cover, etc. – so that even if you drop a tenner from one hiding spot, you still have a couple more to count on.
7. Plan Ahead, Get Ahead
Music festivals are blockbuster events with star-studded line-ups, so it's natural that a lot of performances will overlap or unfold parallelly. To save yourself a panic attack about picking between DJ Snake and Hardwell, get a hold of the festival schedule well in advance so you can comb through it and decide which ones you plan to attend. If you and your pals have different music tastes then have everyone circle out what they want to do so there's no confusion later on. Obviously you can't plan out the whole weekend – and that's the fun of it – but the things you can account for, you should.
8. Fix a Meeting Spot for the Squad
It's totally cool if you want to split up from your friends and catch a couple performances alone because hey, it's not every day that you get to see Afrojack live. But if you want to save yourself a tearful half an hour of struggling to track down your crew, make sure that you've decided on a meeting spot before you part ways. By setting a simple meeting time and place ahead of time, you will be able to reunite successfully no matter how many working phones you might have between the six of you.
9. Stock up on Snacks
Showing up to a music festival on a hungry stomach is a rookie mistake. Eat a full meal before you arrive so that the fatigue doesn't kick in while the night is still young. And while we're on the subject of food, make sure that you also pack a couple of quick snacks into your fanny pack to munch on when you're feeling hangry out there. Be smart about what you bring – skip the fresh sandwiches for something that's a little more dry and mess-free. Whether it be a pack of gummies, a protein bar or some beef jerky – a tasty energy-booster will tide you through those bouts of hunger when you don't want to miss a performance lining up for some overpriced tacos.
10. Keep an Open Mind
If music festivals came with a universal motto, it would definitely be 'carpe diem'. You're likely to run into all kinds of people here so it doubles as a fun opportunity to connect with like-minded individuals too. Stay flexible and keep an open mind because if you're a music festival newbie, chances are you'll see – and experience – a lot of new things that might take you by surprise. That being said, I know that peer pressure gets to the best of us, but make sure to draw the line if at any point you feel uncomfortable.
Feelin' ready to take on your first music festival? Grab tickets here.
https://i0.wp.com/discotech.me/wp-content/uploads/2020/08/tips-cover.jpg?fit=900%2C600&ssl=1
600
900
Ayushee Roy
https://discotech.me/wp-content/uploads/2020/03/Discotech-Black-Logo-300x138.png
Ayushee Roy
2020-08-20 16:46:51
2020-08-20 16:50:52
10 Most Essential Tips for Your First Music Festival