Wondering where to begin your EDM trail this year? Don't leave these iconic music festivals off your list!
Electric Daisy Carnival (Las Vegas, Nevada) – May
In case you needed yet another reason to visit Vegas – seriously? – here's Electric Daisy Carnival! Every summer EDC offers up a harmonious blend of innovative technology and artistic genius with stunning sets and art installations for ravers to enjoy – I mean just look at that captivating explosion of color on stage! Stretching out over five days, it invites big names from all around the globe like Snakehips, Virtual Riot, and Tiesto to bring America's largest dance party to life. You know what they say – what happens in Vegas, stays in Vegas immortalized on the 'gram forever!
Also Read: EDM Clubs Las Vegas
Miami Music Week (Miami, Florida) – March
Move over D.C, every rave-enthusiast knows that Miami's the real (party) capital of the country, so it's no surprise that Miami Music Week provides the heartbeat of the American EDM scene. From Afrojack and David Guetta to Above & Beyond and Disclosure – watch the who's-who of the musical community come together this March to have you falling in love with EDM all over again. With a weeklong string of blockbuster pool parties, nightclub after-parties, and beach raves leading up to the legendary three-day Ultra Music Festival, get ready to sign up for the most immersive and entertaining musical experience of your life!
Hard Summer (Los Angeles, California) – August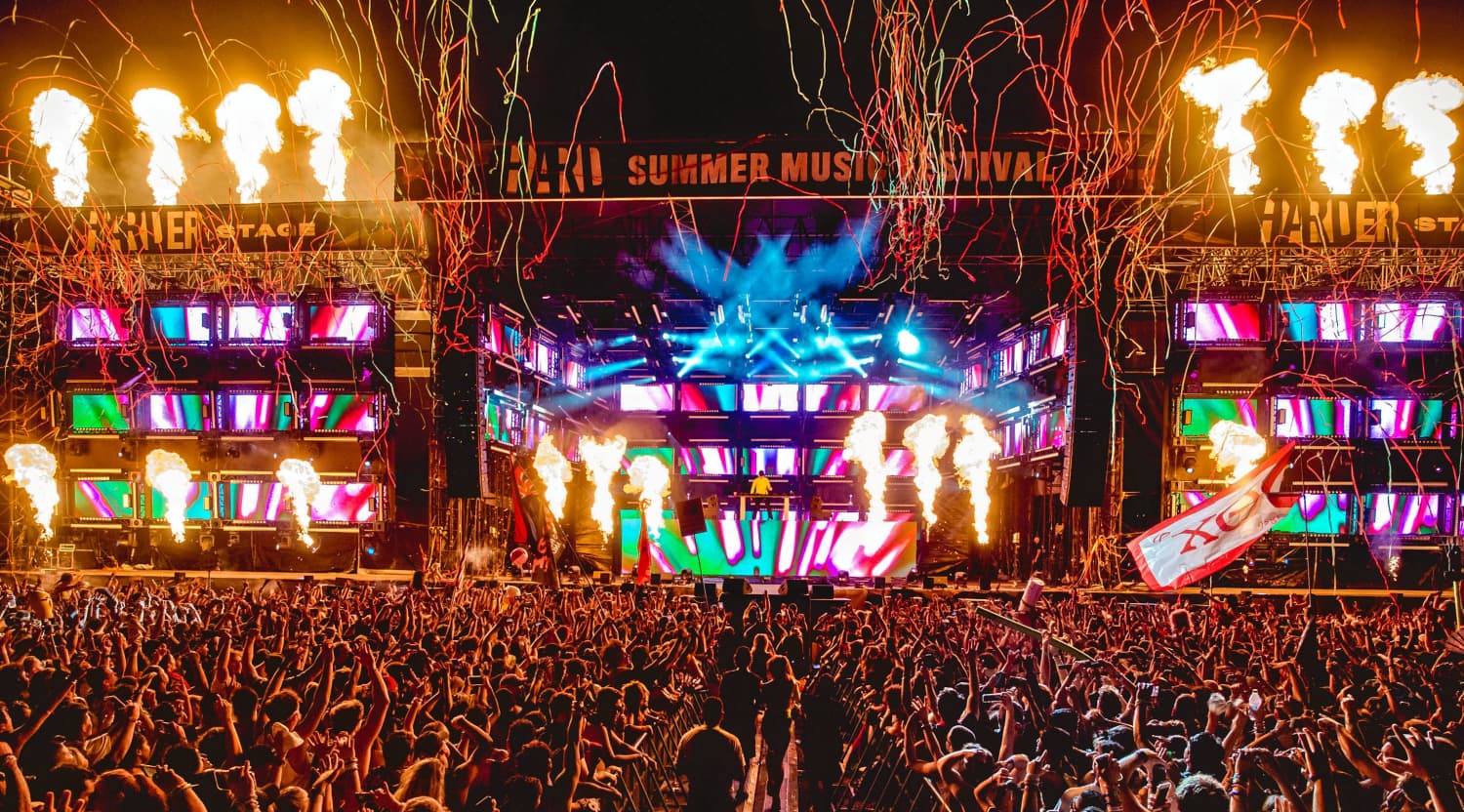 Whether you're having a rough summer or just having a hard time kissing it goodbye, Hard Summer Music Festival is guaranteed to cheer you right up. I mean, what better way to kickstart Fall than with jaw-dropping performances by your favorite EDM idols like Marshmello, Diplo and Travis Scott while partying it up in the City of Angeles and homeland of Hollywood? Even if you don't run into any film stars, you're sure to feel like one yourself at this gloriously extravagant event.
Governors Ball (New York City, New York) – June
Ever imagined yourself as a princess at a ball? Well why settle for princess when you can transform into a rave queen this summer at Randall's Island attending the Governors Ball Music Festival, dancing with the breathtaking New York skyline as your backdrop? Watch Randall's Island come to life with an array of show-stopping performances by fan favorites like Galantis, Wolf Alice and Flume, while you make memories to treasure for a lifetime. With some of New York's best food trucks and interactive art installations to indulge in as well, I bet you'll have a ball at Gov-Ball!
Imagine Music Festival (Atlanta, Georgia) – September
The pride and joy of Georgia, Imagine Festival is renowned for showcasing a wide range of genres such as dubstep, techno, and house, and hence guaranteed to make a die-hard fan out of you. And with the likes of Marshmello, KSHMR, and Zeds Dead gracing the stage, there's no doubt that it passes the vibe-check either! Boasting a recent upgrade in accessibility, capacity and prestige, this killer musical showstopper has relocated to Chattahoochee Hills to accommodate its exponential growth in attendees. Numbers don't lie, so instead of Imagin(e)ing yourself livin' it up in Georgia, come join in the fun this September instead!
Coachella (Coachella Valley, California) – April
Love it or hate it, you've got to admit that no music festival list is complete without Coachella, the mother of all music festivals! Over the years, this Californian Valley-grown musical bonanza has become synonymous with rave culture so it's no surprise that it features a delectable buffet of EDM performances every April. Flume, Whipped Cream, Calvin Harris, SLANDER, Masego – there's a pretty high chance that your EDM idol is going to be tearing up the stage at Coachella, so really it would be like, sooo uncool* of you to not make it.
*Valley-girl accent recommended but not required for entry.
Movement Festival (Detroit, Michigan) – May
For a Memorial day weekend that's truly memorable, head over to Detroit because Movement Festival will spice things right up. Find a slew of new artists to obsess over like Testpilot, Hotwaxx Hale, DJ Seinfeld and LADYMONIX while putting your best moves on display on the dance floor. Revered as the birthplace of techno, Detroit sure knows its EDM and is guaranteed to make you fall in love with the genre all over again.
Pitchfork Music Festival (Chicago, Illinois) – July
Unfolding in Chicago's famous Union Park, Pitchfork Music Festival's successfully made its name as a true game-changer for EDM fans around the nation. With musical titans like the Yeah Yeah Yeahs, Thundercat, and Tame Impala taking the stage by storm, you can be assured that it'll be a summer road-trip to remember. I mean with a name like that you know you'll be raising hell at this brilliantly edgy music festival!
So throw your hands up, they're playing your song, you know it's gonna be okay… hit us up to plan a Party in the USA!
Beyond Wonderland (San Bernardino, California) – March
Nothing screams spring quite like a lovely road trip to SoCal with a musical bonanza to indulge in at the end. Every bit as promising as its name, Beyond Wonderland really delivers on all your EDM fantasies with a star-studded lineup featuring Snakehips, Nitro Fun, Major Lazer and Deadly Guns, along with world-class production and stunning sets to light up the night sky as well as every raver's face. I promise, Beyond Wonderland will leave you beyond wowed!
Ultra Music Festival ( Miami, Florida ) – March
You can't really call yourself a raver till you've woken up in Miami wondering how on earth you're still alive after a mad weekend of hard partying. Since its birth in 1999, Ultra Music Festival has come to be synonymous with rave culture and established itself as the place to be for EDM enthusiasts and spring-breakers alike come March. And it's really no surprise that Miami's Bayfront Park gets ultra-packed with upwards of 165,000 fans every year once you've eyed this insanely star-studded line-up: I'm talking Flume, Major Lazer, Above & Beyond, and Kygo all under the same roof.
Electric Zoo (NYC, New York) – March
From the depths of the Big Apple's concrete jungle we bring you the Electric Zoo – one of the East Coast's most premier dance music festivals to ever exist! Set against the iconic backdrop of Manhattan, it serves up an exquisite offering of some of the finest artists specializing in dubstep, techno and house. Let the likes of Claptone, The Black Madonna, and Bassnectar blow your mind as you fall in love with this incredible city and the wacky sets on display. And ditch the chicken dance for some king-of-the-jungle worthy moves because it's about to get wild up in here!
Lollapalooza ( Chicago, Illinois ) – August
Consider your first visit to Lollapalooza a musical baptism of sorts, because until you've partied it out at this bangin' festival, you're still an EDM – and concert – newbie. Welcoming your favorite internationally-acclaimed acts from every corner of the world, Lollapalooza solidifies the Windy City's reputation as a true cultural hotspot and a must-visit for anyone with an artistic bone in their body. Dance the weekend away to legends like Travis Scott, ODESZA, Tame Impala, 21 Savage and literally every artist on your hype playlist on Spotify. I mean Lollapalooza's been calling your name for years; isn't it time you finally gave in?
Dreamstate SoCal (San Bernardino, California) – November
Doing some California dreamin' lately? Well then it's definitely time to grab tickets to this funky music festival unfolding in the heart of SoCal. As one of the most iconic trance music festivals on the West Coast, Dreamstate is guaranteed to leave you entranced. With class acts like Perfect Stranger, Fables, REALITY TEST and Ace Ventura to groove to, it'll be difficult to snap out of this dream-state!
Electric Forest (Rothbury, Michigan) – June
Make sure to work Rothbury into your Summer road-trip route because you don't want to miss out on the magical madness unfolding at Electric Forest! And gear up for a spot of camping – wayy more fun than your girl scout days – because there's no sleeping at this party. If the absurd and the odd are what you crave, then this unique band-centric festival is definitely going to be your cup of tea. Prepare for a thrilling explosion of funky new sounds and captivating colours. Groove along to stunning performances by Disco Biscuits, Rainbow Kitten Surprise, Petit Biscuit and more equally eccentric acts that'll have you hoping, unlike Taylor Swift, that you aren't out of the woods forest yet.
Paradiso Festival ( Quincy, Washington) – June
Unlike Phil Collins, you won't have to resort to imagining "another day for you and me in Paradise" because the mother of EDM music festivals, the legendary Paradiso awaits a visit from you this Summer. Yes, that's right – Paradiso made history as the "largest EDM event ever held in the Pacific Northwest" back in 2012 and has since made its mark as a musical giant to watch out for. With a line-up boasting a perfect mixture of well-loved and edgy artists, this music festival welcomes powerhouses like What So Not, Slumberjack, Moon Boots, and Louis The Child. And what's more – this festival doubles as the perfect opportunity to do a little camping with your friends too. So be sure to mark your calendars for a date with paradis(o) this June!
So throw your hands up, they're playing your song, you know it's gonna be okay… hit us up to plan a Party in the USA!
https://i0.wp.com/discotech.me/wp-content/uploads/2020/08/USA-.jpg?fit=1280%2C720&ssl=1
720
1280
Ayushee Roy
https://discotech.me/wp-content/uploads/2020/03/Discotech-Black-Logo-300x138.png
Ayushee Roy
2020-08-11 16:37:28
2022-08-29 03:37:28
Best EDM Festivals in USA