Atlanta is a melting pot of fun, there are a bunch of different neighborhoods to discover. When the sun sets, the nightlife scene starts heating up! Check out our top clubs to go out to at night in the ATL.
In addition to Atlanta's various hotels, lounges, comedy clubs, restaurants and bars, the city's nightlife scene is also peppered with a smattering of dance clubs.
If you're looking for a place that mixes glamour with a bumping crowd, you need not look further than Midtown, where several of the area's largest, highest-end dance clubs congregate. Dressing for the party is imperative at these places, so look your best, particularly if you're hoping to meet someone single (which you probably will).
Compound
Outdoor and Indoor areas make this spot versatile for all types of parties
Compound is an increible space that includes an outdoor table area with a pavillon that leads to the indoor section of the club. The vibe here is a great mix, it is classy yet very wild and fun. It gets packed very early though so reserve a table to ensure you and your group have a great night.
Ravine
Big sound, big stage, and big talent make Ravine a triple threat for a good time
This venue is not for the faint at heart, expect big sound and dramatic, intelligent lighting on a customized entertainment system that will catapult you into the future of live indoor music shows. The pairing of our Funktion One sound system with a phenomenal big room lighting design delivers a multi-sensory, festival experience into the intimate setting of a rock n' roll inspired recording studio.
District
Catch some popular artists performing here and hop into the mix at District
District is a true event space that throws one heck of a party. Lights and lasers will have your senses tingling while your deep in the crowd. They even have an outdoor terrace for open air events.

Gold Room
Known for it lavish and larger than life parties
Gold Room has 7,500 square feet with two floors of lavish décor that will invigorate the senses, an astounding audio-visual environment and world- class customer service. They completed their renovation in Summer 2014 and proudly boast a new innovative and chic character that is unlike any venue in Atlanta.
Opium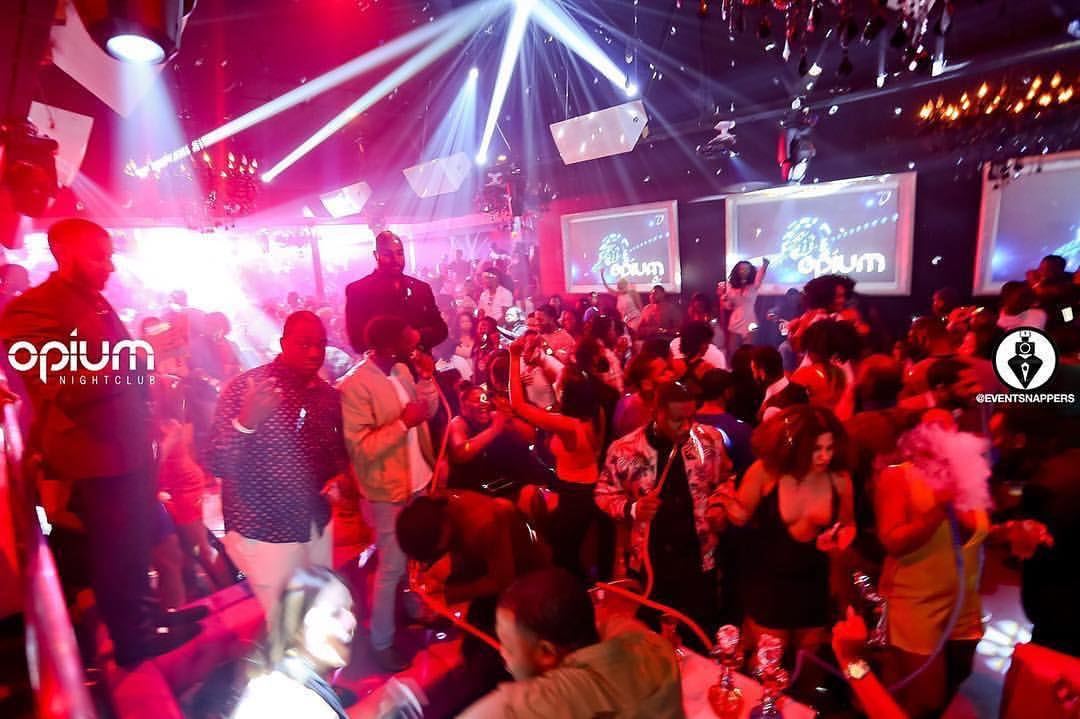 They play the music loud, Opium will turn your night up a couple notches
Opium nightclub formally known as Privé is midtown's newest nightclub. Those in Atlanta won't want to miss this experience of something new & eclectic.
Suite
With some good food and a friendly staff, you'll feel like you have your own suite
From the inviting warmth of the wood paneled walls and ambient lighting to the incomparable cuisine and courteous staff ready to indulge your every whim, Suite Lounge defines a new standard in Atlanta's social diversion.
Tongue & Groove
A great time at T&G is an understatement, they've been in the business for a while
As NEWSWEEK magazine so aptly described the club, "it's named for the wooden floors and what happens on them". Named Best new nightclub by ATLANTA magazine at the time, it has been featured in The New York Times, USA Today, The Robb Report, Atlanta magazine, DJ Times, and Nightclub & Bar magazine amongst others, and most recently on TMZ network television and online at E Entertainment news.
Havana
Escape from reality and enjoy a night where there is something for everyone
The new Havana Club location pays tribute to its forefather, but also offers amenities and an unparalleled design that guests are bound to remember. The venue boasts 15,000 square feet of warm, rich decadence and with three distinct rooms, each complete with its own unique ambiance. Let the smooth music of Stage, uplifting energy of Studio and creative ingenuity of Gallery carry you away on an exotic escape to Havana.
---
Atlanta Nightclubs FAQ
What time do Atlanta Nightclubs typically open?
The nightclubs open around 9-10 PM.
What time do Atlanta Nightclubs typically close?
Most close at 2:30-3 AM.
What is the dress code like at Atlanta Nightclubs?
Guys can wear nice jeans and a form fitting plain t-shirt or a nice button down shirt. Girls can wear jeans or a comfortable but stylish dress if they prefer. Of course guys and girls can never go wrong with dressing up even more – there is no such thing as overdressing when it comes to nightclubs.
How can I book bottle service for Atlanta Nightclubs?
You can book table service using our free mobile app. Or, if you're on desktop you can use our webapp.
How much is bottle service at Atlanta Nightclubs?
Table minimums can get pretty expensive, but every venue is different. The best way to find out is to use our app.
https://i0.wp.com/discotech.me/wp-content/uploads/2020/04/atlanta-1.jpeg?fit=1500%2C630&ssl=1
630
1500
dukedisco
https://discotech.me/wp-content/uploads/2020/03/Discotech-Black-Logo-300x138.png
dukedisco
2020-04-09 12:26:10
2021-01-13 14:37:23
Top 8 Best Nightclubs in Atlanta in 2021